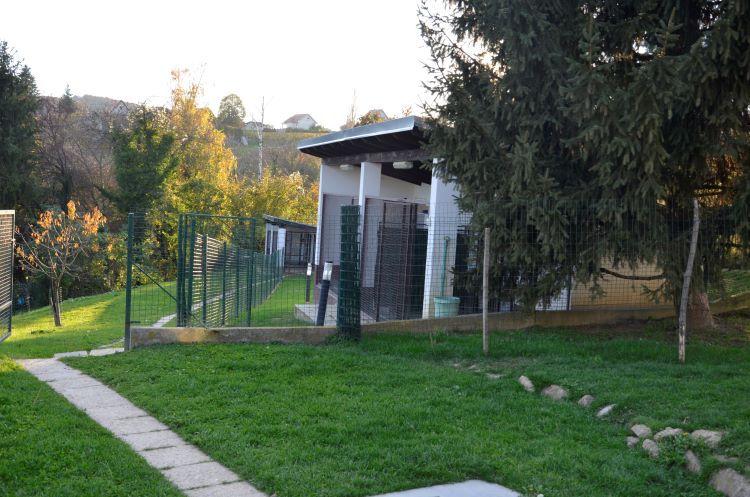 I'm a cynolog over many years. For me dogs mean the center of the world and everything in my life was always subordinated to dogs. My first love were German Shepherds, because I was interested in dog training all the time. I bought my first German Shepherd when I was 11 years old and I took care of and trained him by myself. In 1996. when I was forced to move into an apartment, I purchased an Irish Red Setter and started with him a very sucessful exhibition career (6 championships). Altough I was very satisfied with the Setter, I became increasingly found of Akitas. The crucial moment was when I hugged an Akita puppy the first time (the older sister of my male) and this little teddy bear scrambled on me and started to lick me. I knew then, Akita is the right breed for me.
SAMURAI YASHIKI (translation: Shadow of Samurai) is a new kennel, registered at FCI just recently under No. 38/05. The wish and idea of foundation came in 2001. when I started my search for a dog. In 2002. I managed to purchase a high-grade dog. In 2003. I succeed to buy the best bitch out of the combination Kakusui & Heiku from Rossi & Brutti. In 2004. I bought another bitch from their dogs and those 3 dogs became a good basis for a further breeding meeting high standards, due to the fact that they origin primarily from japanese bloodlines. All of my dogs were chosen very carefully and it is my great pleasure that they became top exemplars of their breed which is borne out by their exhibition results.
In the near future, the first puppies will come, who will be equally good or, I hope so, even better than their parents. Akitas are worth of respect and admiration. Therefore, I will do my utmost to get an even better quality and to popularize this breed.
Samurai Yashiki kennel is here for you! If you have any questions regarding this wonderful breed, please do not hesitate to contact me.
september 2005.,
Rebeka Tratnik
I am a cynolog over many years and I have been breeding Akitas for 10 years under the kennel name "Samurai Yashiki". I have always loved large dogs and I am somewhat averse than smaller breeds because of their excessive nervousness. 3 years ago, when visiting Silvia Exposito,one of the great Akita and Shiba kennel, for the first time I had the opportunity to learn more about Shibas'. I liked them at first glance. They were all that small dogs are not. Poised, calm and full of dignity. Shiba is a big dog trapped in a small body. That's why I decided to start to breeding this wonderful breed and try to bring people closer to a big little dog.
Kennel "Samurai Yashiki" is here for you and if you have any questions about these two wonderful breeds, please contact us.
May, 2011.,
Rebeka Tratnik